If you have a Creative – Craft business, keeping you Organized is the most challenging task at all. My workshop is a mess after a really busy weekend getting ready for Valentine's day ! I was sewing owls, and making Valentine Cards all weekend ! Phew!! My workshop was a mess 20 minutes ago. It is Monday and I HAVE TO start this week with my mind in the correct place and knowing what's the plan for this week. Before I start my day- beginning of the week, I use what I call "The mess box"
This is a simple technique I use to keep my workshop Organized, It is easier and faster for me.
Image: It's that Monday morning feeling original by cwipnotestoself
What is The Mess Box? :  It is any container, bucket, clear box, box  or bag that I have in my workshop empty at the moment.
How do I use it ?
a. Decide how much time do you want to use for this exercise, I put my timer usually for 15 minutes before starting my day. You can make it as often as you need or want.
b. Start from your desk ! Start putting everything that is not in its correct place in that box, until you finish or fill the box. Finish the desk, then move to another space. Pick up all from those places too and put them in the box.
c. when you finish start putting all the stuff in the correct place in order. Put all the pencils and scissors in the place. It will be faster because you have everything in only one place. when you are moving to another space take your box with you and take out all the pieces that belong to that room or space.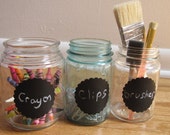 why is this useful?
You can save time !!! It is faster to put 10 pens in the correct place at once that stand up every time, walk and put it in the place.
How often do I have to do it?
As often as you need or want. I make it almost everyday for 10 minutes, during a brake or every time I will start a new project. My mind works better when I feel the space clean and organized. Also sometimes I make it when I finish my day or to keep my apartment organized and clean. I take a bigger box and I start working my apartment picking up the mess and putting everything back in its place.
HAPPY MONDAY CLEANING!